WETT Certification Costs – Greater Victoria BC Area
Proudly Serving the Greater Victoria BC Area – Saanich, Saanichton, North Saanich, Sidney, Sooke, East Sooke, Metchosin, Colwood, Langford, Highlands, View Royal, Esquimalt, Oak Bay British Columbia.
Our WETT Certification Costs for a Level 1 Basic Visual Inspection which uses the following Code Books and Guides are typically $180 plus GST in our trade area.
Provincial Building Code
Provincial Firecode
CSA B365 Code for the installation of Wood Burning Appliances
Manufacturers Installation Manual – woodstoves and some fireplaces
Manufacturers Label attached to appliance where applicable (older stoves without labels are inspected using rules for uncertified stoves)
Our Scope of Work
The inspection of "readily accessible" components of a wood burning appliance, or a site-built fireplace, and the venting system for:
(a) proper use of required components, and
(b) clearance to combustibles, and
(c) readily visible system obstructions or deposits
This allows the WETT Certified inspector to verify code compliance of the wood burning system at a homeowner's request, or with a homeowner's permission, when requested by a third party (i.e. insurance company, home buyer, local building dept etc)
Check out our Video to See What a Wett Inspection Covers
WETT Certified Inspection Report
The WETT Certified inspector will then provide a written report for his basic, visual inspection performed without a ladder or specialized tools using WETT's recommended inspection check list for the type of system being inspected.
Our Report to you usually consists of a PDF file or Printed Report containing 2 or 3 pages of WETT Inspection Checklists outlining compliances, any deficiencies and possible solutions, it also contains applicable photos and a copy of the owners manual in the case of a wood stove, insert of furnace. (manuals on availability, we have quite a few manuals in our library)
An inspection by someone who is WETT Certified will determine if the wood burning appliance has been installed with the proper chimney equipment and listed chimney components as outlined in the owners manual.
If you choose a WETT inspector who is also an installer or tradesman, he/she will be able to advise as to whether the system can be updated or brought into code compliance with some of the newer Chimney products on the market which have better clearances, fire ratings and performance.
Very often, a 'knowledgeable' WETT certified inspector can also identify issues which cause improper performance of wood stoves, fireplaces and fireplace inserts like backdrafting and smoking and provide solutions.
An inspection by someone experienced who is WETT Certified will also be able to see if you have been utilizng your equipment in the way it was intended and see if your burn habits and firewood are maximized properly. A knowledgeable inspector can give you suggestions as to how to improve your burning skills.
Our basic fee for this service is $180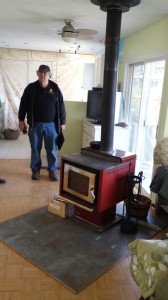 Serving Southern Vancouver Island and Southern Gulf Islands
Greater Victoria
Victoria, Esquimalt, Oak Bay, Vic West, View Royal, Saanich, Saanichton, Brentwood, West Saanich, Central Saanich, North Saanich, Sidney
Western Communities
Langford, Colwood, Glen Lake, Bear Mountain, Highlands
Metchosin, Sooke, East Sooke
Further West
Shirley, French Beach, Jordan River, Port Renfrew
add mileage and travel time
Southern Gulf Islands
Pender Island, Galiano Island, Mayne Island, Saturna Island
$1500 minimum charge ( mileage, ferry costs and travel time.)
Our Local and Distance Consultation, Pre Inspection Advisory Services
Do you have specific Smoke Problems, Chimney or Wood Burning System questions or Ideas?
– Local Victoria Area, BC, Canada, US or International Consultations –
– A quick consultation could save a larger problem down the road…
– We are able to make an appointment to consult with you by phone, text or email on a professional basis – $125 minimum charge for up to 1/2 hour
Skype or Face Time appointments also possible upon set up appointment and prepayment – Minimum $120 up to 1/2 hour
Call or text 1-250-418-5110 with Credit card number to arrange appointment – Paypal, Visa or Master Card accepted
Email [email protected]
NOTE: We can also supply detailed custom shop drawings for specific Chimney Crown Flashing with Drip Edge, so you can have an effective and economical solution to many chimney problems made up in your local sheet metal shop. Cost based on consulting and drafting time and materials.
---
Roland von Schellwitz, B.Eng
Victoria BC's "Flue Guru"

WETT Certified Chimney Services
10 Years Successful Contracting and Trade Experience 
Local "Owner Operator" Family Business Serving Greater Victoria BC 

Trained by the late Dean Brandhagen, Master Tradesman ( Interprovincial RedSeal Journeyman Brick Mason since 1973, Journeyman Carpenter since 1988, Journeyman Concrete Technician)

WETT Certified Wood Heat Professional System Advisor, Inspector, Installer and Chimney Sweep

Engineering graduate: Systems Engineering UVic, 2004

Licenced – Worksafe BC – Insured – BBB
​ Talk or Text 1 (250) 418-5110
Annual Inspections and Cleaning
Since 1 in every 7 House fires is caused by a wood burning appliance – BC Fire Code and most Insurance Companies Require 

Annual Inspections & Cleanings

on Wood Burning Devices.
      Our Chimney Sweep Service
Draft Problems
Building Depressurization Inspection for Draft Issues to determine how your building competes for draft Starts at $180 Book Now
Draft Inducers for Wood Stoves and Fireplace Inserts for poor drawing basement and outside "cold" chimney installations Contact for quote

Key Dampers for Installations with too much draft 

Contact for quote

Stove Door Gaskets 

Contact for quote

Combustion Air Intake Vents 

Contact for quote

Chimney Sealing to prevent expensive Heat Loss and water or critter entry 

Contact for quote
Repairs and Upgrades
New Equipment Installations
Wood Burning Accessories 
Weather Proofing