Chimney Repair Stucco Victoria BC Area
---
Why Stucco on a Chimney Deteriorates
Stucco deterioration on a masonry chimney is usually caused by water getting into the structure through a crack in the crown or improper flashing. .
This water is then absorbed into the masonry and soaks up behind the stucco, then a little frost just pops the layers apart. After a few seasons this becomes visual and the stucco is blamed as poor quality or something when the hidden culprit is actually the cracked cap.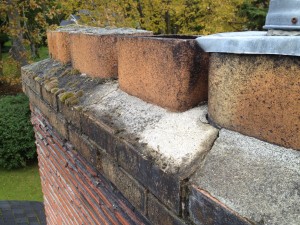 A chimney repair usually consists of removing any loose materials, repairing underlying spalled brick and reapplying matching stucco. If you notice loose material on your chimney, check out chimney repairs bristol to get it fixed as soon as possible.
We then add a crown flashing with a drip edge and some rain caps to stop future water from entering and destroying the chimney again.
We then apply an Elastomeric Coating to seal off the chimney face and make everything the same color.
 We also use various methods of epoxy injection repairs when required or suitable. These can save a lot of money as compared to replacing expensive concrete caps or crowns..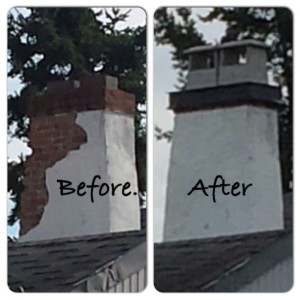 Here is another example of the same type of repairs using Stainless Steel rain caps on Traditional Chimney Pots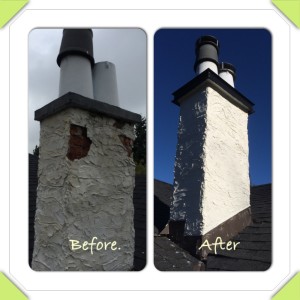 Here is one of our Videos about Stucco Chimney Repair
Here is another video showing our stucco chimney repair methods
Here is still another stucco chimney repair method
Elastomeric coatings are a thick rubberized latex paints used especially for outdoor masonry, they go on thick and make a great water seal as well as adding to the curb appeal of an outdated chimney.
Another Video showing the value added method of our chimney repairs
Call us for a free Estimate for your chimney repair for all types of chimneys.
---
Roland von Schellwitz, B. Eng
Victoria BC's "Flue Guru"

WETT Certified Chimney Services
10 Years Successful Contracting and Trade Experience
Local "Owner Operator" Family Business Serving Greater Victoria BC

Trained by the late Dean Brandhagen, Master Tradesman ( Interprovincial RedSeal Journeyman Brick Mason since 1973, Journeyman Carpenter since 1988, Journeyman Concrete Technician)

WETT Certified Wood Heat Professional System Advisor, Inspector, Installer and Chimney Sweep

Engineering graduate: Systems Engineering UVic, 2004

Licenced – Worksafe BC – Insured – BBB
? Talk or Text 1 (250) 418-5110
Annual Inspections and Cleaning
Since 1 in every 7 House fires is caused by a wood burning appliance – BC Fire Code and most Insurance Companies Require

Annual Inspections & Cleanings

on Wood Burning Devices.
Our Chimney Sweep Service
Draft Problems
Building Depressurization Inspection for Draft Issues to determine how your building competes for draft Starts at $180 Book Now
Draft Inducers for Wood Stoves and Fireplace Inserts for poor drawing basement and outside "cold" chimney installations Contact for quote

Key Dampers for Installations with too much draft

Contact for quote

Stove Door Gaskets

Contact for quote

Combustion Air Intake Vents

Contact for quote

Chimney Sealing to prevent expensive Heat Loss and water or critter entry

Contact for quote
Repairs and Upgrades
New Equipment Installations
Wood Burning Accessories
Weather Proofing
Visit My Website https://flue.guru