Chimney Repairs Victoria BC Area
Proudly Serving the Greater Victoria BC Area – Saanich, Saanichton, North Saanich, Sidney, Sooke, East Sooke, Metchosin, Colwood, Langford, Highlands, View Royal, Esquimalt, Oak Bay British Columbia.
Chimney Cleaning Time!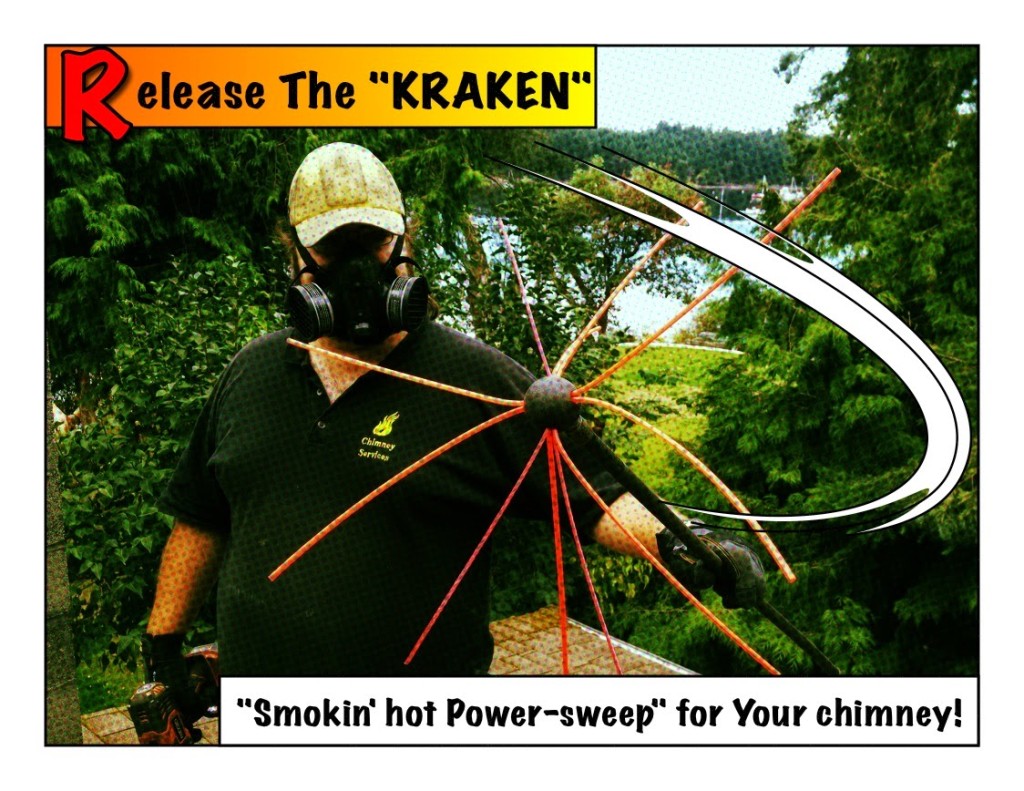 Chimney Top Restorations in Victoria BC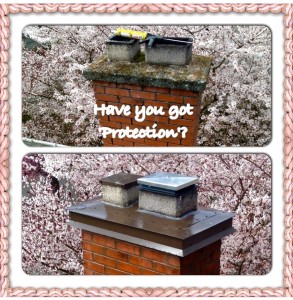 Concrete or Masonry Chimney Crowns are always Cracked and soaking water into the main chimney structure causing the mortar to fail and the whole structure to deteriorate…
We repair the crown cracks with epoxy, sealants or mortar and custom make a crown flashing  with a drip edge to drain away rainwater and acidic creosote mixtures and protect the chimney from any further deterioration.
Then we seal off and unused flues, add rain caps or top dampers (like this photo) repoint any bad mortar joints and water proof the structure with a high tech nano waterseal.
The result is a chimney restoration that is good for at least 35 years as opposed to ordinary repointing jobs that look the same in 5 -10 years.
All this for a fraction of a rebuilding cost.
Whether you need a major wood burning system install, chimney repair or refurbishing or just a cleaning and an inspection… Give us a Call!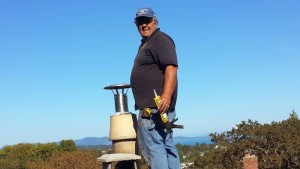 Here is our Video of one of our recent Chimney Repairs Victoria BC
Chimney had many stains on it from previous attempts at repointing which we cleaned up nicely.
Tall chimney required some added roof braces to stabilize it properly.
Both chimney crowns were repaired and Custom Crown Flashings with drip Edges to preserve the new repointing for many years.
We then water sealed both chimneys with our amazing earth friendly high tech nano weatherproofing
Victoria is Full of Gorgeous Heritage Chimneys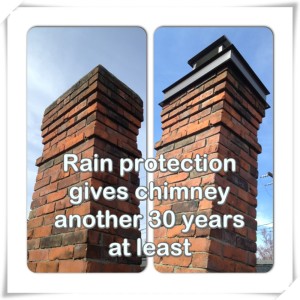 Preserve your heritage chimney by adding a rain-cap and crown flashing with a good drip edge
This stops water from entering the structure and deteriorating any further without looking out of place
Weather proofing the masonry with our earth friendly nano waterseal adds many years of life to the beautiful masonry.
Our Methods keep your Wood Burning System Safe, Save you Money – and at the same time –

Pay for themselves by adding a large amount of Curb Appeal!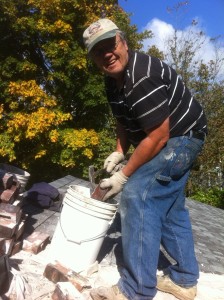 Before you hire your Neighbour or that 'Guy from Craigslist' to do "cheap" after hours repairs:
Any Chimney work is considered very dangerous and needs to be assessed and completed by Qualified Professionals with Worksafe BC approved Fall Protection Training. 

a homeowner is financially responsible for any injuries to any non WCB insured workers you hire.
We are registered with WorkSafeBC
Note: Any Homeowner who hires untrained tradespeople without WCB coverage are liable for their safety and costs of their claim.
Cracked Chimney Crowns often go Undetected
This is an example of a deteriorated chimney crown with no raincaps or dripedge. Heat in flue liner has expanded flue and cracked the cement that was supposed to divert rain water away, Most chimneys deteriorate like this first, unnoticed by anyone, often for years We do chimney repairs Victoria BC and we have a long distance camera to check chimney tops easily..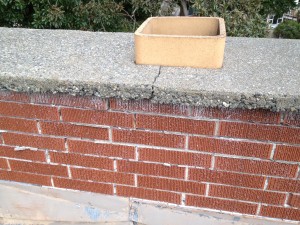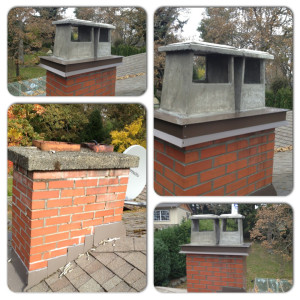 Chimney Repairs Victoria BC Area – Costs vs Value
We can almost always do a chimney repair rather than a tear down and rebuild. Our methods are very cost effective and provide a long term solution at approximately one third the cost of rebuilding a chimney.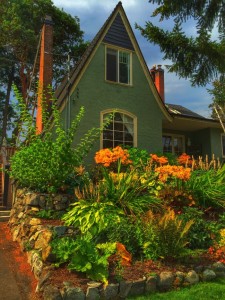 As well, the curb appeal of the home is generally increased about three times the cost of the Restoration so its a good investment!
Stainless Steel Chimneys, Fireplaces and Wood Burning Stoves

We also, Inspect, Service and Install all Types of Metal Chimneys, Chimney Liners and Wood Burning Stove Repairs and Installations.
Our Service Area
We are proud to facilitate chimney repairs Victoria BC in the following locations: Victoria, Esquimalt, Oak Bay, Vic West, View Royal, Saanich, Saanichton, Brentwood, West Saanich, Central Saanich, North Saanich, Sidney
Langford, Colwood, Glen Lake, Bear Mountain, Highlands, Western Communities, Metchosin, Sooke, East Sooke
For further out areas like Shirley, French Beach, Jordan River, Port Renfrew – add mileage and travel time.
Our Local and Distance Consultation, Second Opinion, Pre Inspection Advisory Services
Do you have specific Smoke Problems, Chimney or Wood Burning System questions or Ideas? A quick consultation could save a larger problem down the road…
Local Victoria Area, BC, Canada, US or International Consultations
Email [email protected]
---
Roland von Schellwitz B.Eng
Victoria BC's "Flue Guru"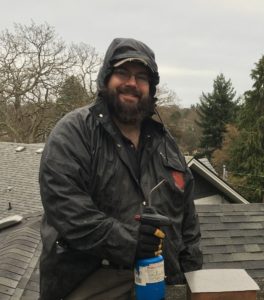 WETT Certified Chimney Services
12 Years Successful Engineer and Trade Experience 
Local "Owner Operator" Family Business Serving Greater Victoria BC 

Bachelors Degree in Systems Engineering, Graduated 2004. Worked in HVAC field programming building automation controls before starting Family Chimney Business

WETT Certified Wood Heat Professional System Advisor, Inspector, Installer and Chimney Sweep

Licenced – Worksafe BC – Insured – BBB
​ Talk or Text 1 (250) 418-5110
Annual Inspections and Cleaning
Since 1 in every 7 House fires is caused by a wood burning appliance – BC Fire Code and most Insurance Companies Require 

Annual Inspections & Cleanings

on Wood Burning Devices.
      Our Chimney Sweep Service
Draft Problems
Building Depressurization Inspection for Draft Issues to determine how your building competes for draft Starts at $180 Book Now
Draft Inducers for Wood Stoves and Fireplace Inserts for poor drawing basement and outside "cold" chimney installations Contact for quote

Key Dampers for Installations with too much draft 

Contact for quote

Stove Door Gaskets 

Contact for quote

Combustion Air Intake Vents 

Contact for quote

Chimney Sealing to prevent expensive Heat Loss and water or critter entry 

Contact for quote
Repairs and Upgrades
New Equipment Installations
Wood Burning Accessories 
Weather Proofing