Chimney Cleaning Victoria BC Area – Flue Guru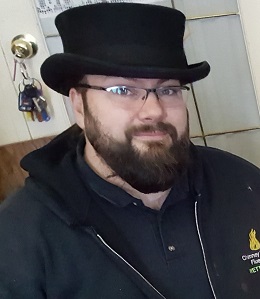 Roland von Schellwitz – Victoria BC's Flue Guru Proudly Serving the Greater Victoria BC Area – Victoria, Saanich, Saanichton, North Saanich, Sidney, Sooke, East Sooke, Metchosin, Colwood, Langford, Highlands, View Royal, Esquimalt, Oak Bay, Brentwood Bay British Columbia.
We Power Sweep your Fireplace from the Bottom Up!
It is no longer necessary to access dangerous and slippery roofs to clean your chimney system.

( Note: Homeowners are liable for injury costs for workers without WCB coverage. )

We use a powerful state-of-the-art Rigid vacuum with a HEPA filter with an outside Exhaust to clean up the Dust during the process as well as canister vacuum cleaners for fireplace debris. For chimney cleaning victoria bc, call us today
WETT Certified Chimney Cleaning, Repair, Restoration, Upgrades, Waterproofing and Maintenance
We Prevent Dangerous Creosote Accumulations
Cleaning your wood Burning System from the inside of the house allows us to remove the stovepipe to access hard to get sections where dangerous creosote can accumulate.
Cleaning this type of system from the top often misses the horizontal section ad gives a false sense of security thinking that the system is clean. Using something like chimney cowls for wood burners could help keep your wood burning system guarded against birds, rain and other things that might make its way down into your home after you've cleaned your chimney or have fixed your roofing.
Chimney Fire Restoration
Ok, So you had a chimney Fire… This is what a mild one looks like after it is extinguished.
In this case the wood stove was over-sized for the room and was burned too cold allowing creosote to accumulate in the outside situated "cold" chimney which is quick to condense any gasses on the walls of the flue.
Chimneys that are improperly cleaned often store large quantities of creosote that can ignite during a moderate chimney fire creating a major event.
Creosote expands like steam when burning and can plug flues causing large amounts of smoke to enter living space unannounced. It can also cause damage to the roof in which case this resource from Division Kangaroof, or somewhere similar, can help with information on fixing it.
Power Sweep Your Complete Wood Stove System from Bottom Up
http://www.youtube.com/watch?v=xe25ZfgMqxs WETT Certified Chimney Sweep, Maintenance and Repairs in Victoria, Oak Bay, Saanich, East Sooke, Sooke, Colwood, Esquimalt, Langford, Sidney, Vic West, View Royal, Saanichton, Brentwood, North Saanich, Metchosin and area.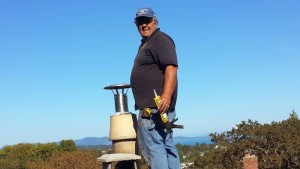 Insurance companies are now requiring Chimney Inspections and Chimney Cleaning to be done by WETT Certified Tradespeople and Inspectors. What is the difference between a WETT Certified Chimney sweep and a Non Certified Chimneysweep? After all anyone can push a brush down a chimney! What's the big deal?
WETT Certified Sweeps should recognize any deficiencies in your wood burning system and bring them to your attention.
WETT certified sweeps will be aware of the particular installation clearances of your system and bring you aware of any discrepancies.
See My You Tube Video about Wett Inspections Ask to see a current WETT photo ID, with current year sticker, each signing technician must have one, businesses or technicians cannot share a common WETT Certificate
Chimney Cleaning Basic Costs
"Bottoms Up" – Our Best Chimney Cleaning Method using our Rotary Power Sweeping Tool – Our Best Deal – Starting at $200 per Wood Burning System (WCB Safety Compliant and our Cleanest Method) Typically we can clean a Masonry Fireplace (brick or stone), Most woodstoves and fireplace inserts (with removable baffles) and Factory Built (metal) Fireplaces from the bottom.
We believe that many chimneys on steep roofs are simply not cleaned (and consequently not used) because it is too complicated, expensive and dangerous to access from the top. So we offer this alternative.
Note: In rare cases we have to go on the roof though to clean spark arresters and de-glaze the flue liner. There may be an extra charge for this depending on how much setup and safety gear is required.
Check out our Video about Plugged Spark Arresters
Benefits of the "Bottoms Up" Chimney Sweep Method
This method gives us an opportunity to closely check the status and condition of the:
Fireplace Damper, Firebox, Smoke Shelf and lower Flue Liner Condition
Fireplace Mantle, Hearth and Screen Clearances and Safety Clearances
Fireplace Grate Design Assessment and Modifications Can Solve Smoke Problems
Wood Stove Door Seals, Baffles, Firebricks and Stove Pipe or Chimney Liner Condition and Installation Safety Clearances
When we clean from bottom: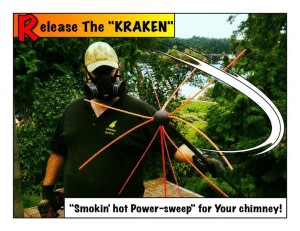 We use our modern rotary power chimney cleaning Victoria BC tool which gives a thorough, damage free cleaning in liners, metal chimneys and traditional flue systems.
We avoid Roof Top access on slippery or steep roofs and traffic damages on old roofs resulting in far better safety.
We give you most economical way to clean a tall or hard to access chimney! We can clean up to 48′ high in many circumstances with no additional charges.
We have much better control of soot and dust entering house as we work cloth assisted by a high 3-Layer Fine Dust Filter in our state of the art Rigid Vacuum Cleaner with an exhaust hose to the outside to vent most of the odours or any fine particulates.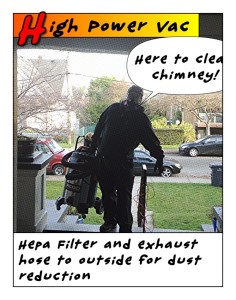 When we see the whole system:
we can then recommend ways to save energy and fuel, improve operation of the unit and that we could not see from a "Traditional Top down" type brushing.
We get a better understanding of your burning skills and practices and often can recommend tips on how to check moisture content in firewood, size and type of firewood, how much kindling to use.
We can also see how other parts of the house affect your fires performance, example air loss from open upstairs windows or Kitchen and bathroom fans will tend to draw "make up air" back down your chimney and cause fireplaces and stoves to backdraft smoke into the room
We can also determine if you have been over firing or under firing your stove or fireplace, and see firsthand if your chimney or chimney liner is in good condition at the bottom, Many times we see baffles that have been installed improperly or bumped out of position when putting logs into the Firebox.
We can often Save You Piles of Money in energy costs!
By determining if your damper is fitting Properly or causing expensive heat loss. we often hear folks complaining of high electric or oil heating bills when their damper has been left wide open for years and drawing horrendous amounts of heated air up the chimney 24/7.
When there is no damper (or the damper is seized open because of rust caused by no raincap) and therefore no way of closing this unrestricted waste of expensive heated air .
We can seal off unused fireplaces to prevent water entry and heat loss or install top dampers to allow occasional use of fireplace without year round heat loss.- learn more about dampers…
Chimney Cleaning Victoria BC usually Costs $ 200.00 plus GST per flue or appliance in most cases. We can also price  flue deglazing.
Save a Possible Disaster by Checking your Firewood Moisture Content
Wet wood smoke quickly turns into dangerous flammable creosote in your chimney. http://www.youtube.com/watch?v=I-fmv-n3Cro We carry a supply of reasonably priced moisture meters with us.
---
Roland von Schellwitz Victoria BC's "Flue Guru"
WETT Certified Chimney Services 12 Years Successful Contracting and Trade Experience
Local "Owner Operator" Family Business Serving Greater Victoria BC
Systems Engineering Graduate, HVAC and building automation control system developer.
Trained in trades by Dean Brandhagan, a Master Tradesman – Interprovincial RedSeal Journeyman Brick Mason since 1973, Journeyman Carpenter since 1988, Journeyman Concrete Technician
WETT Certified Wood Heat Professional Inspector, Installer and Chimney Sweep
Licenced – Worksafe BC – Insured – BBB
? Talk or Text 1 (250) 418-5110 Annual Inspections and Cleaning
Since 1 in every 7 House fires is caused by a wood burning appliance – BC Fire Code and most Insurance Companies Require

Annual Inspections & Cleanings

on Wood Burning Devices.
Our Chimney Sweep Service
Draft Problems
Repairs and Upgrades
New Equipment Installations
Wood Burning Accessories
Weather Proofing