Chimney Caps Repairs Restorations Replacements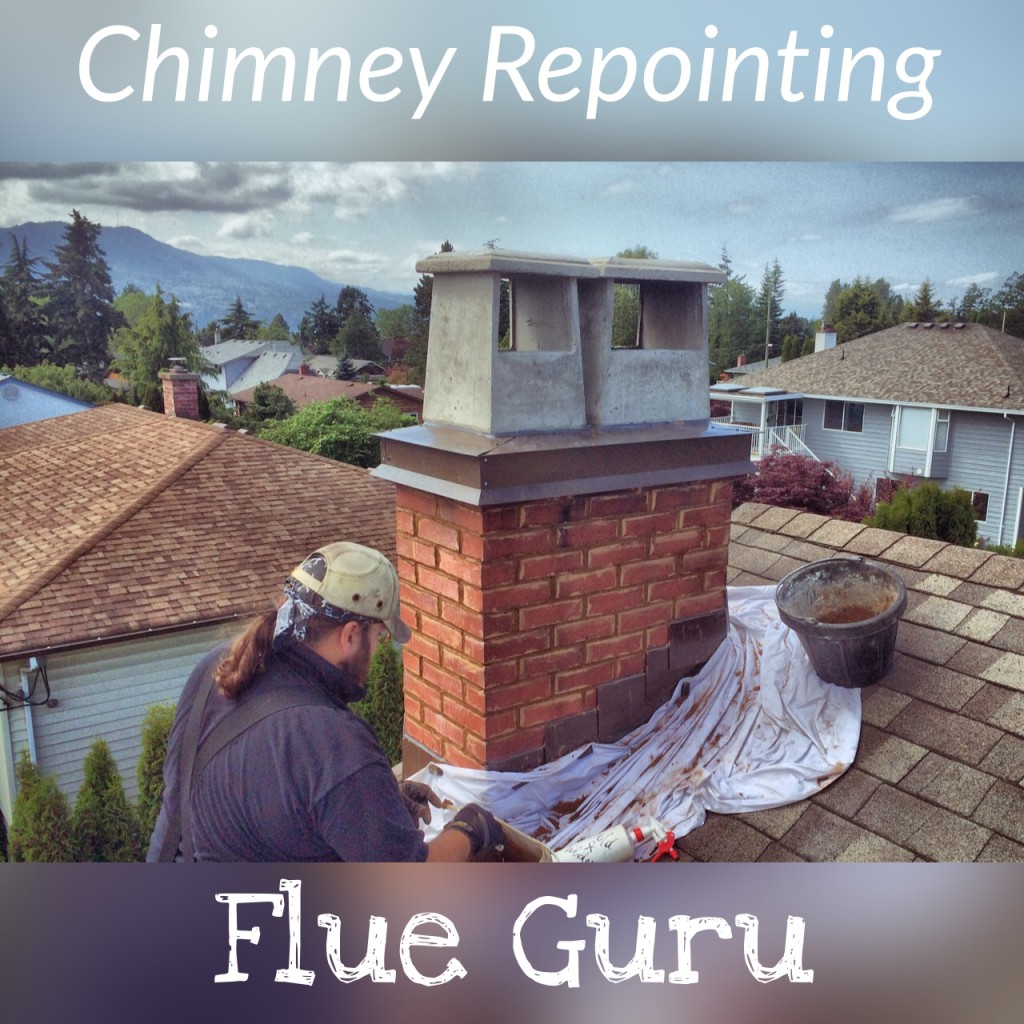 The big problem with Chimney Caps
Chimney Caps always crack and let eroding water in because the chimney top is the place where hot always meets cold, and when hot meets cold in masonry or concrete – cracks appear. But you don't have to believe me – just drive along any street and look up at the chimney tops and you will see an abundance of ugly cracks everywhere..
Chimney Caps Fact 1:
These cracked chimneys were all built by the best efforts of very talented bricklayers and masons – who when they come to repair these cracked-up chimneys – still believe that stronger is better – and they try to correct it by making it even stronger. Which is actually counterproductive in most cases or at the very least extremely expensive. It is thus wise to consult and
use Precision Roof Crafters for roof repair
and get it professionally checked.
Little known side fact : The building code for masonry chimney construction is very complicated and includes a number of expansion and slip features that very few masons incorporate into their projects because they are simply unaware of the need for them – and have probably never read a building code. I repair many chimneys every year and have yet to come across one that was built correctly according to Canada's National and BC building code.
Chimney Caps Fact 2:
Chimney repairs become especially confusing when working on a 100 year old chimney that was made with lime and sand as mortar. No cement. The thought process is to make it stronger and harder. When actually some flex in the mortar does not hurt and is recommended. Due to this, it is always best to seek professional help from companies such as
seiroofing.com/roofing-services
/.
My Chimney Caps Solution:
In answer to this chimney cracking problem, over time we developed a simple and reasonably priced solution by adding our custom structurally constructed sheet metal Crown Flashing with riveted corners and excellent drip edges designed to shed water while allowing the chimney to expand and contract with its heat cool cycles.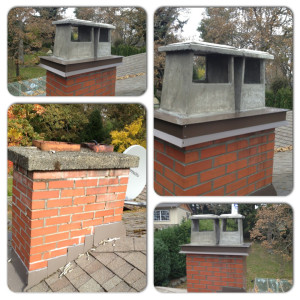 Our Custom Crown Flashing system
is actually structural and was developed in conjunction with a well trained and experienced coppersmith who had much experience in working on extremely high end projects and restorations of castles and heritage projects.
( Drip edges are specified in the building code but rarely are built into a masonry chimney. )
Our metal Crown Flashing product itself is a 26 gauge 35 year plus – rated product which comes in several colours, in fact it's the same material roofers use to flash all the other areas of the roof. Our Crown Flashing covers up a deteriorating chimney crown in a reasonably priced and functional way and adds at least 35 years to the chimney structure all for a very moderate price.
PS: Regular Mason Contractors don't like these crown flashings because it violates some unwritten idea that everything has to be hard – unmovable concrete. I know this because I have many videos on YouTube and get many angry comments from masons worldwide whose clients are asking them to provide my type of crown flashing solutions. Local masons also don't like it because their chimney repair methods and prices do not compete with mine.
Chimney Caps Conclusion
To recap, no pun intended.. haha, our masonry chimney Crown Flashing repair methods allow for cold hot cycles with expansion and contraction, are a maintenance free long term solution and are extremely cost effective. Call for an evaluation and price quote. Usually the price of my repair adds at least double in value to,the curb appeal of your home.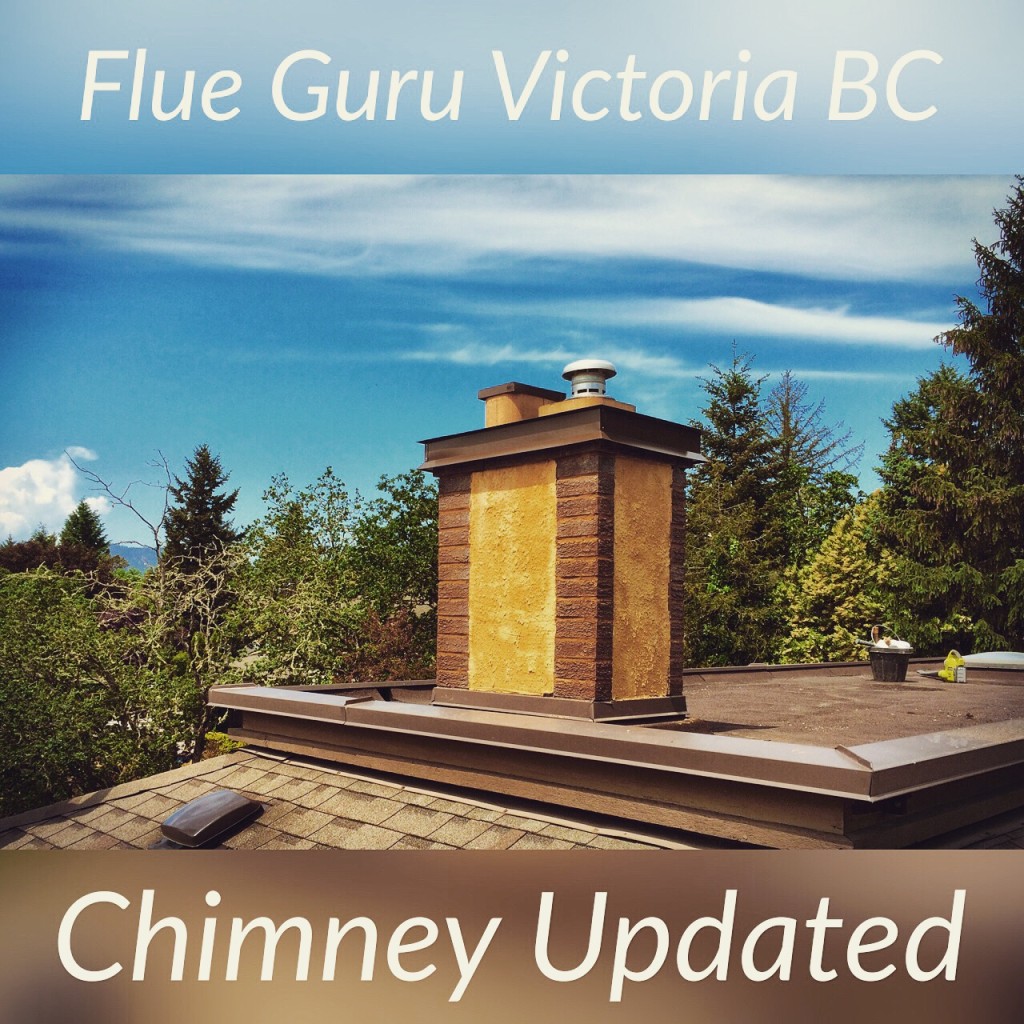 ---
Roland von Schellwitz
Victoria BC's "Flue Guru"

WETT Certified Chimney Services
12 Years Successful Contracting and Trade Experience
Local "Owner Operator" Family Business Serving Greater Victoria BC
Systems Engineering Graduate, HVAC and building automation control system developer.
Trained in trades by Dean Brandhagan, a Master Tradesman – Interprovincial RedSeal Journeyman Brick Mason since 1973, Journeyman Carpenter since 1988, Journeyman Concrete Technician
WETT Certified Wood Heat Professional Inspector, Installer and Chimney Sweep
Licenced – Worksafe BC – Insured – BBB
 

Talk or Text 1 (250) 418-5110
Annual Inspections and Cleaning
Since 1 in every 7 House fires is caused by a wood burning appliance – BC Fire Code and most Insurance Companies Require

Annual Inspections & Cleanings

on Wood Burning Devices.
Our Chimney Sweep Service
Draft Problems
Building Depressurization Inspection for Draft Issues to determine how your building competes for draft Starts at $180 Book Now
Draft Inducers for Wood Stoves and Fireplace Inserts for poor drawing basement and outside "cold" chimney installations Contact for quote

Key Dampers for Installations with too much draft

Contact for quote

Stove Door Gaskets

Contact for quote

Combustion Air Intake Vents

Contact for quote

Chimney Sealing to prevent expensive Heat Loss and water or critter entry

Contact for quote
Repairs and Upgrades
New Equipment Installations
Wood Burning Accessories
Weather Proofing