Chimney Liner Victoria BC – Flue Guru

Proudly Serving the Greater Victoria BC Area – Saanich, Saanichton, North Saanich, Sidney, Sooke, East Sooke, Metchosin, Colwood, Langford, Highlands, View Royal, Esquimalt, Oak Bay  British Columbia.
Chimney Liner Victoria BC Videos and Information
Installing a chimney liner for your wood burning stove or fireplace insert  means you now have a closed loop and can control chimney fires better rather than have large accumulation of highly flammable material and oxygen supply at your masonry clean-out
Costs to install a stainless steel liner in an existing one storey chimney depends on type of liner, length and difficulty to install.
Feel free to call for price on your particular system!
Unlined Pre 1950 Masonry Brick or Stone Fireplaces
There are thousands of pre fifties unlined masonry fireplaces in the Victoria BC area and there is no real effective way to install a clay liner in these fireplaces.
Although these Victorian era units are extremely cute and capture the bygone Victorian Coal Burning Era – they are not safe and waste HUGE amounts of expensive heat as well as letting in large amounts of rainwater. Stainless liners do not supply a code compliant solution unless they are insulated and one insulated, the liner is usually too small to be effective.
An unlined masonry fireplace is an open invitation to a chimney fire as highly flammable creosote collects in all the various rugged nooks and crannies in the mortar joints inside the chimney.
A chimney fire can reach temperatures above 2000 degrees F and is worsened in an unlined chimney due to its ability to draw combustion air through mortar joints. This high heat can transfer through bricks readily and ignite adjacent wood framing.
The best solution is to install a small insert with an insulated liner. There is an insert available that can be burned with a screen so as to capture the crackling ambience associated with wood burning for those romantic evenings. But this insert is also an effective heater with the ceramic  glass  door on and doesn't waste expensive energy like a open masonry fireplace.
Fireplace Insert with No Dedicated Chimney Liner
Here is our video showing the dangerous hidden creosote accumulations of a fireplace insert that had been installed without a  dedicated liner.
This type of installation was common during the nineteen seventies and eighties
This type of installation is no longer considered to be an acceptable method of installation and it is illegal to reinstall this insert after cleaning the fireplace without adding a dedicated liner
 Insulated liner for an Unlined Brick Chimney
Here is our video of a double wall insulated chimney liner There are a lot of unlined brick chimneys in the Victoria BC area
In order to install a fireplace insert in an unlined brick chimney a double wall  liner must be used.
 Its Time to install a Chimney Liner when:
• Here is our video of a chimney liner installation where the stove was having a problem keeping the existing clay liner hot enough to function on a cold outside wall chimney. Flue size was 12″ x 12″ when the stove outlet is 6″ diameter which is bad math. The flue gases cannot properly heat that large a space inside the flue to provide enough draw for the stove to operate properly.
When damage to existing chimney lining is evident or when a masonry chimney has no liner at all.
• When new wood burning appliance is installed in existing equipment like a fireplace insert into Masonry Fireplace
• When a new appliance like a wood stove is connected to an existing masonry chimney
• When the existing chimney flue is oversized relative to heating equipment like a wood stove with a six inch outlet is connected to a larger flue opening.
Check out my YouTube playlist – Chimney Liner Victoria BC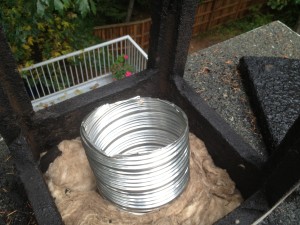 chimney liner victoria bc
---
Roland von Schellwitz
Victoria BC's "Flue Guru"

WETT Certified Chimney Services
10 Years Successful Contracting and Trade Experience 
Local "Owner Operator" Family Business Serving Greater Victoria BC 

Trained by the late Dean Brandhagen, Master Tradesman ( Interprovincial RedSeal Journeyman Brick Mason since 1973, Journeyman Carpenter since 1988, 

Journeyman Concrete Technician)

WETT Certified Wood Heat Professional System Advisor, Inspector, Installer and Chimney Sweep

Engineering graduate: Systems Engineering UVic, 2004

Licenced – Worksafe BC – Insured – BBB
​ Talk or Text 1 (250) 418-5110
Annual Inspections and Cleaning
Since 1 in every 7 House fires is caused by a wood burning appliance – BC Fire Code and most Insurance Companies Require 

Annual Inspections & Cleanings

on Wood Burning Devices.
      Our Chimney Sweep Service
Draft Problems
Building Depressurization Inspection for Draft Issues to determine how your building competes for draft Starts at $180 Book Now
Draft Inducers for Wood Stoves and Fireplace Inserts for poor drawing basement and outside "cold" chimney installations Contact for quote

Key Dampers for Installations with too much draft 

Contact for quote

Stove Door Gaskets 

Contact for quote

Combustion Air Intake Vents 

Contact for quote

Chimney Sealing to prevent expensive Heat Loss and water or critter entry 

Contact for quote
Repairs and Upgrades
New Equipment Installations
Wood Burning Accessories 
Weather Proofing 
Visit My Website https://flue.guru